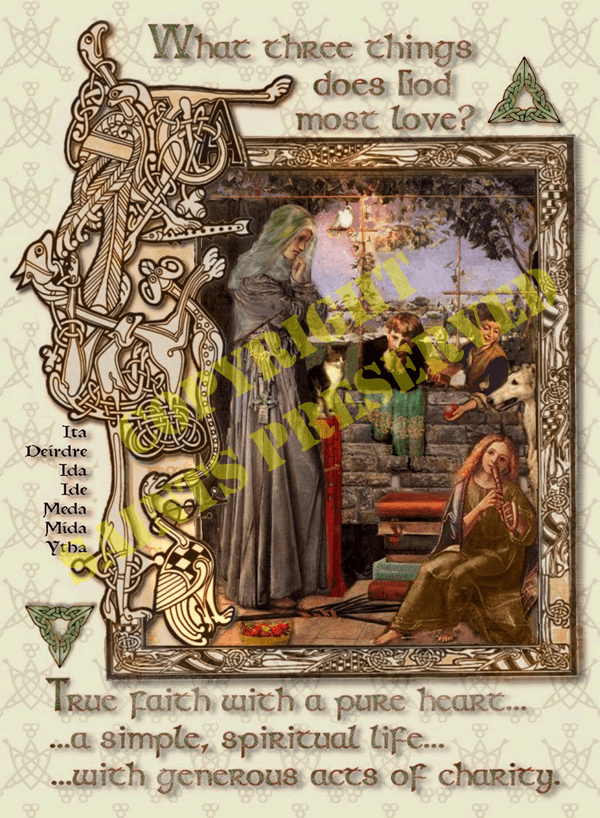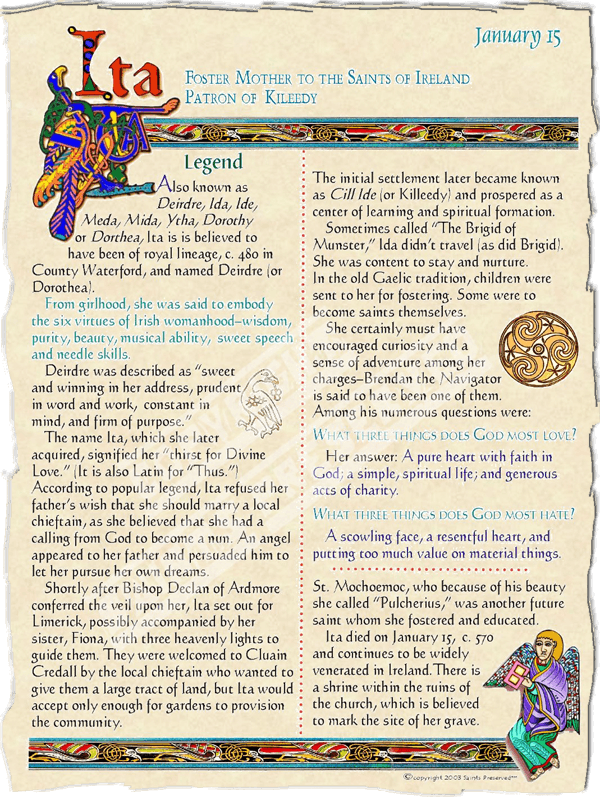 (St. Ita's biographical scroll and Anachron may be purchased from our Virtual Gallery.)


Ita is also known as "Brigid of Munster"
She has her own page at Irish Culture and Customs
. . . . . . . . . . . .

Ita's bio at Wikipedia and at The Catholic Information Network
. . . . . . . . . . . .

Ita's birth-name was Deirdre and she is patron of Cill Íde (pro­nounced kill-eedy). Killeedy history

Legend of St. Ita's foot­prints
. . . . . . . . . . . .

Ita was said to be Brendan the Navigator's first teacher.

See our other abbesses with Celtic Connections: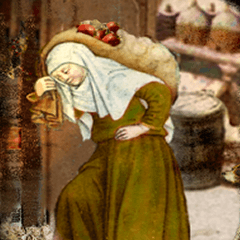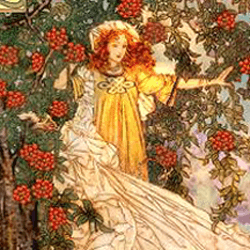 Connect with us: Send us your links....

Feast Day: January 15 "Foster Mother to the Saints of Ireland"
· Patron of Killeedy
(Also known as Deirdre, Ida, Ide, Meda, Mida, Ytha, Dorothy or Dorothea)
Íte ingen Chinn Fhalad
Ita is is believed to have been born of royal lineage, c. 480 in County Waterford, and named Deirdre (or Dorothea).
From girlhood, she was said to embody the six virtues of Irish womanhood: wisdom, purity, beauty, musical ability, sweet speech and needle skills. Deirdre was described as "sweet and winning in her address, prudent in word and work, constant in mind, and firm of purpose."
The name Ita, which she later acquired, signified her "thirst for Divine Love." (It is also Latin for "Thus.") According to popular legend, Ita refused her father's wish that she should marry a local chieftain, as she believed that she had a calling from God to become a nun. An angel appeared to her father and persuaded him to let her pursue her own dreams.
Shortly after Bishop Declan of Ardmore conferred the veil upon her, Ita set out for Limerick, possibly accom­pa­nied by her sister, Fiona, with three heavenly lights to guide them. They were welcomed to Cluain Credall by the local chieftain who wanted to give them a large tract of land, but Ita would accept only enough for gardens to provision the community.
The initial set­tle­ment later became known as Cill Ide (or Killeedy) and prospered as a center of learning and spiritual formation.
Sometimes called "The Brigid of Munster," Ita didn't travel (as did Brigid). She was content to stay and nurture.
In the old Gaelic tradition, children were sent to her for fostering. Some were to become saints themselves.
She certainly must have encour­aged curiosity and a sense of adventure among her charges...Brendan the Navigator is said to have been one of them. Among his numerous questions were:
What three things does God most love?
Her answer: A pure heart with faith in God; a simple, spiritual life; and generous acts of charity.
What three things does God most hate?
A scowling face, a resentful heart, and putting too much value on material things.
St. Mochoemoc, who because of his beauty she called "Pulcherius," was another future saint whom she fostered and educated.
Ita died on January 15, c. 570 and continues to be widely venerated in Ireland. There is a shrine within the ruins of the church, which is believed to mark the site of her grave.
download a free St. Ita pdf
Our gift to you: specially designed "Connection Quotations".
Totally free, no strings attached; no tracking. This is a safe site.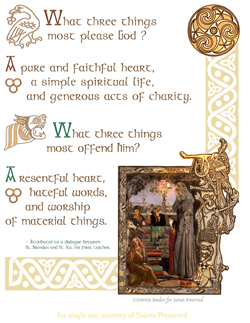 click here
Our St. Ita is available in one-of-a-kind and limited editions as prints, plaques, tiles, greeting cards, chaplets, jewelry and more.
They can be purchased at our virtual gallery: