Gardening books from small, unique, independent book sellers

In the spirit of the medieval monks and nuns who toiled diligently to preserve and spread the wonders of the printed word, we offer this section.
(We do not benefit financially from any sales,
it's purely a labor of love.)
The greatest gift is the passion for reading. It is cheap, it consoles, it distracts, it excites, it gives you knowledge of the world and experience of a wide kind. It is a moral illumination.
~ Elizabeth Hardwick

Click here for
Booksellers
we like and think you will too.

Most also offer other media.
Featured Book Sellers
(We've given them a page of their own.)
As time permits, we will provide a full page, with samples, for each of our favorite sellers. Here's what we have so far, but please look at the others (linked at left) as well.
Featured Booksellers:

. . . . . . . . . . . . . . . . . . . . . . . . . . . . . .
This month's featured theme:
Gardening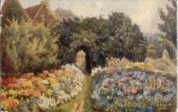 Dedicated to
St. Fiacre and St. Gertrude of Nevilles
. . . . . . . . . . . . . . . . . . . . . . . . . . . . . .
We've linked these books to our bookseller's page and a seller whom we've determined carries that title (though you might very well be able to find it listed with one of our other featured sellers).
A visit to their site will give you details about the book - and of course you can order it from them:
Brother Cadfael's Herb Garden An Illustrated Companion to Medieval Plants & Their Uses
Robin Whiteman
Illustrated by Rob Talbot
Depicts the monastic garden, Cadfael's garden and Cadfael himself.
(Available from AbeBooks)
The Medieval Garden
Sylvia Landsberg
The author also recreated Brother Cadfael's physic garden at Shrewsbury and Queen Eleanor's garden at Winchester.
(Available from the Food Heritage Press)
Sanctuary: Gardening for the Soul
Photography by Dency Kane; Text by Lauri Brunton and Erin Fournier
This book of vibrant photographs helps you design your own personal sanctuary garden - a natural space that offers solace, beauty, joy, and inspiration.
(Available from Bas Bleu)
A Contemplation Upon Flowers
Garden Plants in Myth and Literature
Bobby J. Ward
...Ward has helpfully found a host of patron saints for gardeners: St. Urban against frost, St. Magnus against caterpillars, and St. Isidore to help you plant a straight row.... how to give your garden meaning. Splendid.
(Available from A Common Reader)
100 Flowers and How They Got Their Names
Diana Wells
Describes the mythology and history behind favorite garden plants, emphasizing the adventures of the courageous European botanists and plant explorers who discovered them in their native habitats. (Available from A Common Reader)
A Gardener's Latin

Richard Bird, Cathy Morley (Illustrator)
More reference tool than dictionary, with beautiful watercolor-collage illustrations. Also focuses on colors, flower and leaf shapes, fragrance, size, indigenous country, etc.

(Available from the Store for the Miracle Minded)
The Sacred Garden
Soil for the Growing Soul
by Patricia R. Barrett
Former journalist and gardening author-turned-postulant expounds on what many of us know: gardening can also be a spiritual practice.
(Available from the Store for the Miracle Minded)
The Medieval Garden Design Book by Ramona Jablonski
Intricate geometric patterns for formal parterres, beds, paths and garden structures. (Available from AbeBooks)
Dedicated to Brigid of Ireland,

Patron of .Scholars .Poets .Printers .Creativity
. . . . . . . . . . . . . . . . . . . . . . . . . . . . .
As this section continues to grow, we welcome your suggestions!