As is typ­ical with early saints, there are few ver­i­fied facts about St. Patrick's life. But unlike most others, he left behind documents–his Confession and his Letter to Coroticus–which describe some of his expe­ri­ences. He was not the first Christian mis­sionary to reach Ireland, but the prin­cipal credit for estab­lishing the Celtic church belongs to him. The fol­lowing story is a com­bi­na­tion of the most likely, and the most inter­esting, bits of information.
Maewyn Succat was born some­time between 370 and 430 A.D., in Brittaniæ (Post-Roman Wales, England and Scotland). He was later chris­tened Patricius (Patrick). His father, Calpurnius, was a Roman cit­izen and offi­cial. All was fine until the youth was cap­tured and sold as a slave to the house of Miliue (or Milchu), in what is now Antrim, Ireland. There he remained for six years, tending sheep and learning the lan­guage and cus­toms of the people.
Eventually he found an oppor­tu­nity to escape on a ship bound for Galliæ (France) with a cargo of Irish wolfhounds. Though the cap­tain sus­pected Patrick was an escaping slave, he agreed to take him along because of his ability to calm the dogs.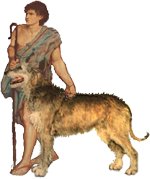 He was finally reunited with his family, then joined a monastery and studied under St. Germain, the bishop of Auxerre. About a dozen years later, he too became a bishop.
But his soul heard the irre­sistible call of Ireland and he finally con­vinced his supe­riors to appoint him as bishop to the land where he had been enslaved (suc­ceeding Paladius).
He trav­eled throughout Ireland, estab­lishing monas­teries, schools and churches. He also reformed harsh Irish jus­tice with energy, wit and kind­ness.
His mis­sion in Ireland lasted for thirty years. After that time, Patrick retired to County Down. He died on March 17 in AD 461. That day has been com­mem­o­rated as St. Patrick's Day ever since. (The custom came to America in 1737 when St. Patrick's Day was pub­licly cel­e­brated in Boston.)
Though orig­i­nally a Catholic holy day, St. Patrick's Day has evolved into more of a sec­ular hol­iday, with tra­di­tions such as wearing green for Ireland and the sham­rock (Patrick used the three-leafed sham­rock to explain the Trinity).